Lynx helicopters head to Afghanistan from Yeovilton for final time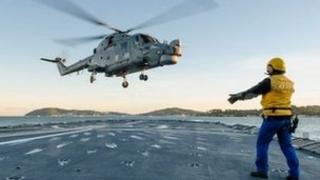 Lynx military helicopters based at Somerset's RNAS Yeovilton are heading to Afghanistan for the final time this weekend.
The five month tour will be the last time 847 Naval Air Squadron will fly the Mark 9 Alpha Lynx helicopter which is due to be replaced by the Wildcat.
Lynx helicopters have been used by the military since the 1970s and the Mark 9 is designed for desert terrain.
Lt Col Nick Venn praised the Mark 9 as a "brilliant machine".
But he said it was a privilege to be the first squadron that is converting to the new Wildcat battlefield model.
He said: "That's an exciting new capability that we're very much looking forward to.
"When we get back in the summer our future is littoral manoeuvres and amphibious operations using the new aircraft."