Nick Clegg and Paddy Ashdown launch Somerset council battle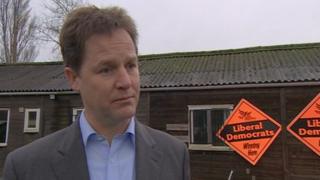 The deputy prime minister and Lord Ashdown have visited Somerset to launch the Liberal Democrat battle for Somerset County Council.
Nick Clegg and Lord Ashdown joined Somerset MPs in Highbridge to kick off the campaign to regain control of the authority in the 2013 local elections.
Mr Clegg accused the Tory-run council of wasting taxpayers' money and "savage cuts" to services.
The Conservatives have yet to comment.
The Conservatives took power from the Liberal Democrats in 2009 for the first time in 16 years.
On Saturday Nick Clegg met the party's prospective candidates in Highbridge, along with Somerset's four Lib Dem MPs - David Heath, Tessa Munt, Jeremy Browne and David Laws.
'Common sense'
Mr Clegg said: "We have come here to launch our challenge to the Conservatives who have forced this county to its knees over the last four years.
"The Lib Dems want to run services with down-to-earth common sense.
"After four years of wasting taxpayers' money, making savage cuts to services and staff, and selling off 'the family silver', later this year the general public will have a chance to elect new county councillors with common sense."
The Somerset County Council elections take place on 2 May.
Phil Gaskin, the Labour Party's regional director for the South West said: "What the Liberal Democrats in Somerset need to do is explain to people in Somerset why they are criticising the Tories locally while supporting their policies and cuts nationally."