Taunton's £21m NIDR scheme moves step closer after government backing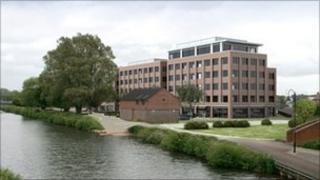 Work could begin on building a £21m road in the heart of Taunton as early as March, Somerset County Council said.
The government has backed the council's move to buy land along the route of the Northern Inner Distributor Road (NIDR), following a public inquiry in May.
The NIDR will connect Staplegrove Road to Priory Bridge Road and aims to ease congestion in the town centre.
The announcement means the construction programme can now be finalised. Completion is expected in late 2014.
Somerset County Council said the mile-long stretch has the potential to "help boost Taunton's economy by 6,000 jobs and add hundreds of millions to its economic performance".
"I'm delighted this major infrastructure project is so close to becoming a reality," said Conservative leader of the council, John Osman.
"There is still a lot of hard work ahead but it does mean we will be able to unlock more of Taunton's potential as an economic centre for the region with the building of the NIDR."
'Best possible news'
The NIDR will link Staplegrove Road in the west of the town, to Priory Avenue in the east, also giving access to redevelopment sites in Firepool.
The scheme includes approximately a mile (1.6km) of new carriageway together with the realignment of a further 150 metres of carriageway.
A new junction at the Chip Lane/Staplegrove Road junction, and improvements to the existing Priory Bridge Road/Priory Avenue/Priory Park junction, are also part of the scheme.
Leader of Taunton Deane Borough Council, Councillor John Williams, said the announcement was "the best possible news Taunton could have wished for".
The £21m project will be funded by £15m from the Department of Transport, £4m from developers of adjacent sites, and the remainder from Somerset County Council.
A six-week period will begin on 31 January for any challenge to the Department for Transport's decision to be made.
During this time the contractor will also be selected, based on a tendering process undertaken last year.