Capricorn figurine on display at Museum of Somerset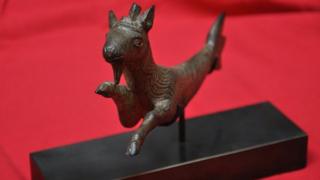 A rare Roman bronze figurine in the shape of a mythical creature is going on display at the Museum of Somerset.
Representing the zodiac sign of Capricorn, experts have described it as being of national importance.
The figure's rarity is due to its large size which has in turn added a layer of mystery as to its intended purpose.
It is about 12ins (30 cm) long which is about two or three times bigger compared to similar objects of its type.
Head of Museums Steve Minnitt said: "Roman figurines occur with certain frequency but nothing has turned up of this size. It's enormous.
'Nothing like this'
"Representations of Capricorn are unusual from the Roman period - Capricorn occurs on a few coins, there are a number of figurines.
"The closest parallel comes from Austria but even then it's nothing like this quality."
Capricorn was also the emblem of the Second Augusta Legion which invaded and controlled the South West of England in 43 AD.
The figure was found last February by metal detector enthusiasts last in Burrington, North Somerset, near the Roman lead mines on the Mendip Hills. It was sold to the museum for about £16,000.
The Victoria and Albert Purchase Grant Fund paid half the costs, and donations also came from a private donor and the Friends of the Museum of Somerset.
But the intended purpose of the figurine remains under debate.
One idea is that it was a standard for the legion's flag but this has been discounted.
'Regimental dinners'
Finds liaison officer at Somerset County Council Laura Bennett, said: "You would need quite a strong attachment to be able to wave it around on a big pole - but there really is no evidence of those.
"What it suggests is that it's designed to sit on perhaps an altar, or even a table.
"Perhaps it is directly associated with the legion, as something at the centre of their dining table when having regimental dinners or it belonged to someone who was attached or retired from the legion."
The figurine goes on permanent display from Saturday.