Weston College awarded £10m to teach prisoners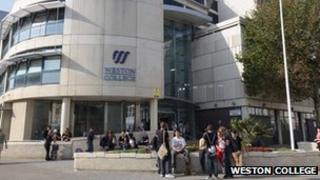 A college in North Somerset has been awarded £10m to teach prisoners.
Weston College has said it plans to employ 300 staff after bidding for the cash to help educate prisoners in 13 institutions across the South West.
The Weston College brand will now appear in all South West prison educational facilities.
For the past four months, the college principal and members of his team have visited a different prison every week to see how education is provided.
Dr Paul Phillips said: "The majority of prisoners want to engage in learning but it has to be purposeful in their eyes and therefore induction at a prison level is crucial, as is the need to maintain support when prisoners are about to be released.
"One prisoner made it very clear to me that within the prison walls he had purpose and security but once released he feared for how he would cope.
"In general prisoners are well informed and were quite happy to debate the value of courses and schemes of study."