Exmoor snow death postman John Bircham: Tributes paid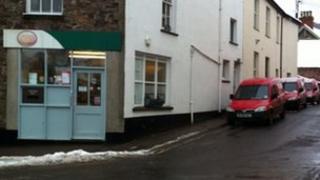 Tributes have been paid to a postman who died while carrying out his rounds in freezing conditions on Exmoor.
John Bircham, 57, collapsed as he approached the end of his deliveries in and around the Somerset down of Dulverton on Saturday.
It is believed the father-of-two had a heart attack after trying to free his van from a snow drift.
Friends said he was a "quiet, friendly" man who was a keen sportsman and credit to his community.
Schoolfriend John Atkins, secretary and treasurer at Dulverton Town Football Club, said Mr Bircham had been a prolific striker during the 1970s.
He said: "As a footballer, John was as tough as nails - players used to bounce off him.
"But he was very gentle. There was never any nastiness in his play. If someone tried to tackle him, he'd just laugh.
"I'm not being critical to our other former players, but John was one of the few who put something back into the club when he finished playing.
"He would turn up to watch, and sell tickets for the club draw.
"He actually sold more tickets than anyone this year, so it was a very popular thing indeed when John's name was drawn first out of the hat to win the £100 first prize."
Mr Atkins said the club would plan its own tribute to Mr Bircham, whose sons, Wayne and Jamie, both followed their father in playing for the team.
'Customers loved him'
Ian Fleming, vice-chairman of the town council, said Mr Bircham was "held in high regard" in Dulverton.
"He was well-known in the town, and people would often see him with his grandchildren, happy and smiling," said Mr Fleming.
"He did a lot for the people of this town and the surrounding area. John really did go to great lengths for people, not just with his deliveries."
Royal Mail said he had been a postman since the late 1980s.
Dulverton sub-postmaster Chris Dubery said: "He was as hard-working a person as you'll ever meet, very dedicated to his collections and to the people of this town.
"He was a very quiet man, and the customers loved him. He was very considerate towards them, always helping them out. He will be missed."