Bath bus driver praised for staying with passengers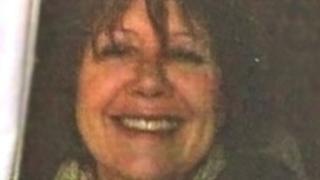 A woman stranded on a bus which was stuck in a blizzard in Bath has praised the 'hero' driver who refused to abandon her.
Izzy Robinson caught the 17:10 GMT First bus from the city centre, expecting to arrive home in Midsomer Norton about half an hour later.
Instead she was on the bus for more than six hours after it became stuck in gridlocked traffic.
"You don't often meet good people but he was amazing," said Ms Robinson.
The driver of the No 173 was Mike Tovey from Wells.
He said: "I feel really proud that Izzy thinks I did such good work looking after her and all of the other passengers, but I was just doing my job and I am sure that anyone would have done the same."
'Chocolate brownies'
The problems started when snow began falling thickly across Bath during rush hour.
Ms Robinson said: "It was unbelievable - people were walking from Odd Down Park-and-Ride to Peasedown but it was too dangerous for me and I had nowhere to go so I stayed on the bus.
"The driver told us a bendy bus had slid on ice by the Red Lion and ended up down a hole in roadworks."
Ms Robinson said at that point there were three other adults and two children on the bus.
She added: "Then a lady came with food.
"She said she'd seen what had happened and brought us sandwiches, chocolate brownies and bottles of water.
'Quite privileged'
"While we were talking to the driver about what we could do to get home we found out he'd been on duty since six that morning."
Police arrived later and took a woman and two children off the bus to drive them home leaving Ms Robinson and two others with the driver.
She said: "He told us to get off our bus and onto the double-decker as it was warmer while we waited for help.
"He said he wouldn't go anywhere until all of us were safely taken home."
The police returned and offered the remaining passengers a lift home which they at first refused as there was no space for the bus driver.
The officers reassured them they would go back for him and they were taken home.
"He was truly lovely and his calmness, patience and professionalism is a credit to the company," said Ms Robinson.
"I feel quite privileged to have met him. He was a hero and I gave him a big hug."
Richard Lewis First's Business Manager for Bath said: "I am delighted to hear that such heartfelt praise has been given to one of our drivers, many of whom take huge pride in their work and go above and beyond the call of duty for members of the public every day."