Somerset's poor mobile signal spots revealed by app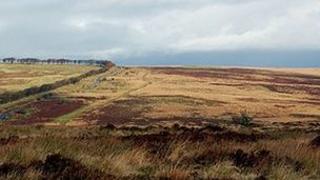 People in rural Somerset are being asked to test their mobile phone signal by downloading a new phone app.
The Countryside Alliance wants to collate the information so they can lobby network providers and the Government to improve the signal in more remote areas.
Head of Policy Sarah Lee, said mobile users pay for a level of service.
Exmoor farmer Christopher Thomas-Everard said lack of coverage is a safety issue.
The app has been created by the rural campaign group through RootMetrics, to highlight how levels of service vary drastically between places.
It tests the speed of each user's mobile internet and the mobile signal strength. The results are combined with other readings in the area to create a map showing which mobile operator has the best service.
'Name and shame'
Ms Lee said: "We need everybody's help to demonstrate how bad the signal is and the impact it has on communities.
"It's a bit of a name and shame game. When they take out contracts, people are paying for a level of service they are not getting."
Mr Thomas-Everard, who runs a farm near Dulverton, said a lack of a signal can risk his safety.
"We had more people working on the farm when I started farming," he said.
"Now we are a more mechanised world so more often we're working on our own and there's quite a high risk that if something goes wrong, the only safety you've got is a mobile phone."
He said that signal levels have improved over the last four years, but there are still areas where there is no service.
The Mobile Operators' Association, which represents network operators, has said it will look at the data collected.
John Cook, executive director, said attitudes to phone masts in rural areas were changing.
"Whereas 10 years ago parish councils and local groups were saying 'We don't want one of those big nasty mobile phone masts in our village', now what they are saying is 'Please can we have a mast so we can get some coverage?'," he said.