Glastonbury teenagers in hospital after taking drugs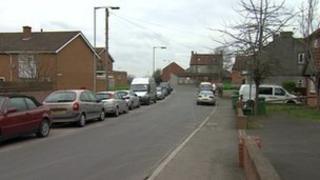 Six teenagers were taken to hospital and two of them remain in intensive care, after taking drugs in Glastonbury.
Police were called to an address in Northload Street early on Saturday after a report that the six had taken drugs and required medical attention.
The 18-year-olds are understood to have taken a derivative of ecstasy.
A man has been arrested on suspicion of possessing Class B drugs and released on bail.
A spokeswoman for Great Western Ambulance Service said six ambulances went to the address at 01:30 GMT.
She said the patients were in "various levels of consciousness". Three were taken to Musgrove Park Hospital, in Taunton, and three were taken to Yeovil District Hospital.
'Alarming reaction'
Insp Justin French, from Wells police station, said: "The drugs that they have taken, we believe, are a derivative of ecstasy.
"They took the drugs and their reaction was alarming which meant they had to be taken to hospital."
Insp French said two of them were initially put on a life support machine in intensive care and they remained in the unit being monitored.
He said they were "awake and out of danger".
Three of the teenagers were still on wards being observed on Sunday morning and one has been discharged.
He said: "They were in quite a bad state. Officers that attended said it was a rare incident to see... six distressed teenagers not knowing what's going on and suffering the effects of drug use.
"Inquiries are ongoing to establish which particular drug they have taken."
An Avon and Somerset Police spokesman said: "We are reminding people that using and supplying illegal drugs is a criminal offence which can lead to a criminal record and affect future life choices.
"It can also seriously affect your health and in extreme cases lead to death."