Worle petition over 'narrow gap' bollards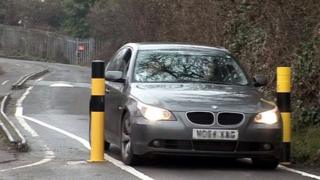 Hundreds of people have signed a petition against the installation of traffic bollards by a Somerset bridge.
Complainants say the gap between the bollards, installed on Moor Lane in Worle to enforce a width and weight restriction, is too narrow.
They were installed last month and some 450 people have signed the petition calling for their removal.
North Somerset Council said it was monitoring the new measures by CCTV and would make adjustments if needed.
'Wear and tear'
The bridge, which takes traffic across the railway line, is enforced with a width restriction and a three tonne weight limit.
The authority said the road and embankments were showing "signs of serious wear and tear" which was being added to by vehicles ignoring the restrictions in place.
It added the newly-installed bollards, which are 7ft (2.1m) apart, and a traffic light system would enforce traffic regulations and protect the road from further deterioration.
The petition claims the bollards are causing damage to vehicles and have isolated the village.