Rock stars back Bath's Bell Inn buyout scheme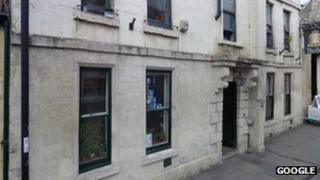 Rock stars such as Robert Plant and Peter Gabriel are backing a community buyout scheme by patrons of a music venue in Bath which is facing closure.
The owner of The Bell pub on Walcot Street has put it up for sale, but a co-operative of customers wants to buy it and run it itself.
A share offer has been launched, and people interested in investing can buy shares priced from £500 to £20,000.
Plant described the pub as "a crucial and integral venue".
He said: ""For the last 10 years or so many of my musical adventures have been with friends from Bristol and Bath, so I'm fully aware of the Bell and its legacy and its contribution to the musicians and audience in the surrounding area."
Peter Gabriel said: "The Bell has always been a key part of Bath's live music scene, often giving musicians their first break and always providing music that is vibrant, diverse and free."
Other stars with links to the area, including Midge Ure, Will Gregory from Goldfrapp and Portishead, have also put their names to the plan to save the pub.
'Lot of goodwill'
Campaign group spokesman Patrick Cave said: "The pub has all kinds of connections going out into the wider big-name music world, and a lot of goodwill has been received, which is great. "
An event to promote the shares offer is being held in the pub on Sunday, where those interested in joining the scheme can meet the team involved.
The offer runs until Wednesday 20 March, as the organisers plan to make an offer to the owner of the Bell before the end of the current financial year.
Mr Cave said: "We're very pleased with how the campaign has gone and we've got a week left to run with well over £300,000 raised.
"I would urge anyone who hasn't got their cheque book dusted off, to do so now, as we need to keep the momentum going for the last week."