Hinkley Point C nuclear emissions 'underestimated'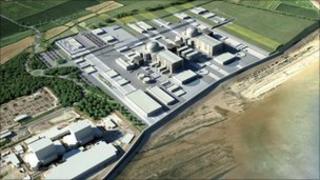 Radioactive emissions from the proposed Hinkley Point C nuclear plant have been underestimated, campaigners claim.
The Stop Hinkley group said reactors will discharge more radioactive waste into the Severn Estuary.
The group's complaint relates to three permits issued by the Environment Agency for the running of the plant.
But the agency said it had addressed concerns before issuing the permits. A decision on whether the plant will be built is expected on Tuesday.
The permits cover the discharge and disposal of radioactive waste and cooling water.
'Dirty and dangerous'
Stop Hinkley said its concerns were raised during the consultation process in December 2011 but were not answered in full by the agency.
The campaign group said it commissioned independent consultants to review the methods used to assess the environmental impacts of radioactive emissions, and found they would not be sufficient or wide-ranging enough to discover the effects on the marine environment.
Campaigner, Nikki Clarke said: "It's about the routine emissions of radioactive liquid and gas from the station, day-in, day-out.
"The reactors that they want to build, the fuel that goes into them is hotter and more dirty and more dangerous than the fuel currently loaded into the Hinkley B station.
"The concerns that we have raised should have been addressed in a satisfactory way, before the granting of the permits, but all they (the agency) are doing is rubber-stamping and facilitating the government policy, and ignoring every other voice."
Stop Hinkley jointly handed in its submissions to the EA with the Nuclear Free Authorities (NFLA) and other organisations.
'Careful consideration'
In a statement the Environment Agency denied the campaign group's claims.
"We came to our decisions to issue the Hinkley Point C permits only after careful consideration of all the responses we received following the two periods of public consultation," a spokesperson for the agency said.
"We are surprised that Stop Hinkley says we haven't addressed the NFLA's points.
"There is an entire section in our final decision document specifically dedicated to the NFLA's comments."
The agency also denied that the methodology used to assess the radioactive impact was inadequate.
Stop Hinkley is now calling for the permits to be revoked and for its submissions to be answered in full before they can be re-issued.
The agency said: "We believe we have answered their submissions in full and there is no reason why we should revoke or reconsider the permits we have issued."