MP Liam Fox concerned over Hinkley Point pylons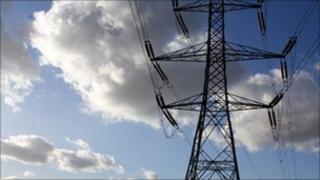 Concerns have been raised over the height of pylons between Hinkley Point and Avonmouth by North Somerset MP Dr Liam Fox.
On Wednesday, the government gave planning consent for the nuclear plant to be built in Somerset.
Dr Fox welcomed the announcement but said pylons twice the current height would be needed to transmit electricity to the national grid.
National Grid has confirmed the pylons would be 47-50m (154-164 ft) in height.
The current pylons used are about 25m (82ft) but the higher pylons would be capable of transmitting more electricity.
'Prettiest parts'
Speaking in the debate in the Commons, Conservative Dr Fox said: "Transmission from Hinkley C will be via 450kv lines compared to the current 132kv lines. This will require pylons twice the current height."
"Where is the overall green gain when we get green generation but a transmission network that puts a blight on the environment - particularly in Somerset and North Somerset; some of the prettiest parts of the country," he said.
Dr Fox, Conservative John Penrose MP and Liberal Democrat MP Tessa Munt, are among those campaigning against overhead pylons.
They believe they will adversely impact the local countryside and should be put underground or under the sea.
A spokesman for National Grid said: "We understand people have concerns about overhead lines, but where they are used, we will work hard to reduce any visual effects by routing the line carefully and using appropriate pylon designs."
After a series of public consultations National Grid said a stretch of five miles in the Mendip Hills area of outstanding national beauty would be put underground.
Although planning consent has been given for the new nuclear plant, the developers, EDF Energy, and the government have not yet reached agreement over the electricity price generated at the site.
Once the electricity price is agreed, the French energy giant will need to confirm its intention to build the two reactors, known as Hinkley Point C.
The final step would be attracting investors to finance the build and only then can the project can get fully under way.