Space capsules sent from Somerset school go missing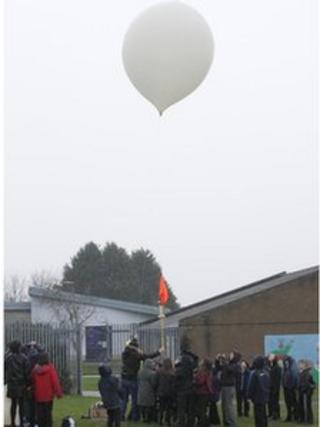 About 70 everyday objects which were sent 18 miles (30km) into space from a Somerset school have gone missing.
The capsules containing items such as sweets, matches and ice cubes were carried into the earth's atmosphere by two high altitude balloons on Friday.
One balloon was found in Warwickshire but organisers said the other one was "still at large in Oxfordshire".
The project at Oakfield Academy, Frome, was supposed to replicate conditions similar to the surface of Mars.
The MARSballoon project, which was organised by Bristol-based aerospace company Systems Engineering and Assessment (SEA), involved six local schools and two universities, and was aimed at helping the students take an interest in a career in the UK space industry.
'Special tray'
The students, aged from seven to 24, were asked to develop an experiment to test anything humans may "want to take or do on Mars in the future".
All the items had to fit inside small plastic containers which were then mounted on to a special tray beneath the balloons.
Each tray included contact details so it could be sent back to SEA once it was found on its return to earth.
The project organisers said the capsules and their contents would experience "conditions which are very close to that of the surface of Mars".
The capsules were expected to travel more than 60 miles (100km) before returning to earth after a flight of about three hours.
The first balloon was found hours after its launch on Friday in Fenny Compton in Warwickshire.
The second balloon is thought to be somewhere between Banbury, Daventry and Leamington Spa.
'Batteries ran out'
Project leader Andrew Bacon, from SEA, said: "We successfully launched the experiment and reached our goal of Mars-like conditions and we recovered one balloon but the second one is still missing.
"There was a failure in the primary mobile phone-based tracking system. We could not locate its beacon in time before the batteries ran out.
"We need help from local residents to find it, so we have started the #findcassie campaign."
Items in the capsules also included teeth, magnets, soap, chocolate and "champagne jelly for space tourism flights".
Once all the items are found, the results will be recorded on the website of the UK Space Agency which contributed funding towards the project.