Baroness bus crash: Two band members leave group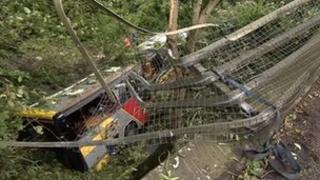 Two members of the US rock band Baroness have quit owing to injuries caused when their tour bus crashed near Bath last year.
Baroness's tour bus was on its way from Bristol to Southampton last August when it fell 30ft (9m) from a viaduct on Brassknocker Hill in heavy rain.
Drummer Allen Blickle and bass player Matt Maggioni both suffered fractured vertebrae and have now left the group.
The message was posted on the band's website by the guitarist, John Baizley.
'Utmost sympathy'
Nine people, including the four musicians, were on board the vehicle when the accident happened on 15 August.
The message from the band's website said: "Our bus accident left indelible marks, external and internal, physical and mental, you name it.
"Each of the nine of us went through, and continues to go through, an entirely different, yet common experience.
"We are tied to each other by a trauma, which, despite its damage, has been made individually easier through our shared ordeal.
"While I would never wish the incident on anyone, I cannot imagine going through that wreck alone."
Mr Baizley added they had two other musicians to replace their bass player and drummer.
He said: "Simply put, some of the effects and injuries were severe enough to prohibit further activity in Baroness.
"While we would never have asked them to leave; we have the utmost sympathy for this situation, and in earnest, we wish Matt and Allen the best in the future."
He added that the band was planning to go back on tour, and they were healthy and "recovering at different rates".