Cheddar Gorge flood-damaged road repairs start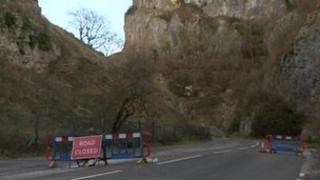 Work to repair the main road through Cheddar Gorge which was damaged by flooding in November is to start later.
The B3135 was reopened in February after being shut to traffic for several months as continuing bad weather made it difficult to start the repairs.
The county council said resurfacing the road would be restricted to evenings and should be completed by 3 May.
The road will be closed at 18:30 BST and reopened at 23:30 BST. The repairs will not take place at weekends.
Somerset County Council is funding the repairs and the roads to be resurfaced include the B3135 Union Street, Cliff Street and The Cliffs.