Glastonbury carpenter has lighthouse home plan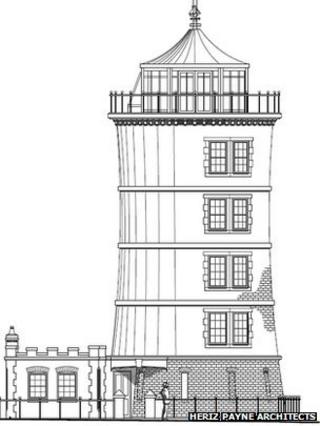 A carpenter has submitted plans to build a lighthouse on the road into Glastonbury after being told his land was in a flood zone.
Malcolm Higgins said he came up with the idea for the unusual home after the Environment Agency told him anything he built needed to be flood-resistant.
The agency has since reviewed its flood zone in the area, but Mr Higgins said he intended to go ahead with the idea.
The town council will consider the plans later.
The project - called The Sentinel - will then need to be considered by Mendip District Council, which will decide if Mr Higgins can go ahead.
The Environment Agency has been contacted for a comment but is yet to respond.
A map on its website shows the current flood zone does not reach the proposed site.
Mr Higgins, 58, said the lighthouse would be a six-storey, three-bedroom eco-home at the point between Old Wells Road and Wells Road.
'Huts on stilts'
He said: "I had quite a considerable bit of consultation with the Environment Agency over building on the site.
"They [initially] said the only type of building that would normally be allowed would be a flood-resistant building.
"I was immediately put on the spot. Either I couldn't build or had to use a flood-resistant building.
"There's two types: wooden huts on stilts which they use on flood plains everywhere else, or my chosen favourite for this location.
Mr Higgins said his decision to still go ahead with the plans since the flood zone was altered was "a little bit political".
Isle of Avalon
"There's a lot of marginal land being taken out of building because they say there's potential it's going to flood. If you don't allow marginal land to be built on, they're going to build on the good farming land."
The lighthouse will not have a light on top, but a conservatory with solar panels.
Architect Jonathan Heriz-Smith said: "The design is unashamedly evocative of a lighthouse.
"It will stand where the historic Isle of Avalon ended and the water began, when the surrounding Somerset Levels were permanently flooded."
He said the building would be a reminder of the changing climate.
"Last year these same levels that the Sentinel will look over were under water for months on end," Mr Heriz-Smith said.
Lighthouse authority Trinity House said the last lighthouse it built was the Royal Sovereign at Newhaven in 1971.