Holburne Museum appeals for bead basket funds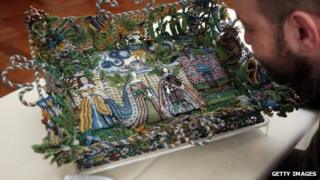 A museum is appealing to the public to help it buy a rare glass bead basket for its permanent collection.
The Holburne Museum in Bath wants to buy the 17th Century basket, made to celebrate the reign of King Charles II.
It needs £6,000 in donations to go towards the £78,000 cost of the basket - the majority of which is being sought through grants.
The basket is made from thousands of brightly coloured glass beads that have been threaded on to fine wires.
It is currently on display at the museum, which has until July to raise the £6,000.
Alexander Sturgis, director of the Holburne, said: "This is the perfect Holburne object, exquisitely made, historically fascinating, irresistibly charming and slightly mad.
"It has much in common with our wonderful collection of 17th Century embroideries, but where they have faded, here the glass beads retain their astonishingly vibrant colours."
Made in England around 1665, it is one of only a handful known to exist in the world, the museum said.
It depicts Charles II next to a castle within a leafy landscape.
A spokeswoman for the museum added: "The figures are almost certainly intended to represent Charles II, who had recently been restored to the throne, and Catherine of Braganza.
"The figures are surrounded by many charming colourful beaded appliqués of flowers, birds, insects and animals."