'18th Century housekeeper' sought in Bath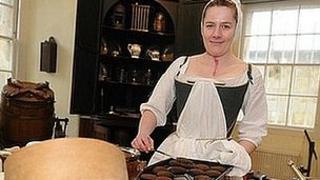 A vacancy for an "18th Century housekeeper" is being advertised by a house in the Royal Crescent in Bath.
The housekeeper at Number 1, Royal Crescent will be expected to give guided tours of the house to visitors when it reopens in June.
The advert for the post, placed in the local press, is not gender-specific.
Tom Boden, from the Bath Preservation Trust, said "We have had some men apply, so there is the option of having a footman instead."
The job has come up as a result of a £5m refurbishment project to reunite the main house with its original servant's wing next door.
Deadline extended
Due to reopen on 21 June, the museum is now looking for a housekeeper with a "commonsense approach" to be on the front door and welcome visitors.
"Housekeepers were at the top of the tree, in terms of the below-stairs servants' hierarchy, and so they would have had the role of showing people around the house and welcoming visitors," said Mr Boden.
"So we're looking for someone who is willing to dress up in 18th Century costume and be the housekeeper for the house."
Despite no previous experience being required, Mr Boden said the post had not attracted "enormous numbers" of applicants.
"We are extending the deadline," he said.
"And although we're getting the costumes made by a specialist 18th Century company, we're mindful you can't recruit to size so there'll be a certain flexibility in the costume size too."