Hinkley plant construction delay until 2014, warn Union leaders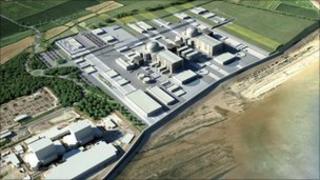 There is "no prospect" construction of a planned new nuclear power plant in Somerset will begin this year, union leaders have warned.
French energy giant EDF announced this week it was reducing the number of workers at its Hinkley Point C project.
It follows continuing delays to agree a price with the UK government for the electricity produced at the site.
Gary Smith, from the GMB union, said it was "bad news for the economy". EDF did not want to comment on his warning.
EDF has been spending about £1m a day on the project and so far Hinkley C is thought to have cost some £1bn.
The firm is waiting to agree the strike price with the government - for the nuclear power generated - before construction can begin.
'Jobs being lost'
Mr Smith said: "It now looks like there is no prospect of starting construction this year.
"They won't start building in the winter. All this is down to the delay in fixing the strike price.
"There are reports that a strike price of £95 per megawatt-hour was agreed between the energy department and EDF but that this was vetoed by the Treasury who want £80 per-megawatt hour."
The project was estimated to create between 20,000 and 25,000 jobs during construction and 900 permanent jobs once in operation.
But Mr Smith warned the delay would be "bad news for the economy and dreadful in terms of job creation".
"It also threatens to leave an energy gap," he said.
"The government promised that the investment in energy as was outlined in the Energy Bill would create jobs. In fact they are being lost."