Watchet Harbour baby rescuer George Reeder given bravery award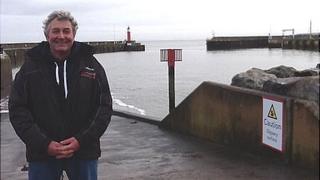 A dockmaster who jumped into a Somerset harbour to rescue a six-month old baby has been recognised for his bravery.
George Reeder, 63, is credited with saving the life of Sam Cooper-Stevens whose pushchair was blown into the water at Watchet by a gust of wind.
He leapt into the sea and managed to pull the baby, who was floating face down in his pushchair, to the quayside.
The local council has awarded him a bravery certificate, but Mr Reeder insists he was just "one of a team".
Mr Reeder, who was in the coastguard for 26 years and is a former lifeguard, said he dashed to the harbour side after hearing the mother shouting that her baby had gone in the water.
'Somerset very proud'
"I went to the edge and I could see the pushchair upside down, floating away - you could just see the wheels," he said.
"I didn't think about it - I just jumped in and pulled the pushchair back over to the edge of the quay."
The pram, with Sam still strapped inside, was then pulled back up the harbour after a rope was lowered.
"It's a little miracle really," added Mr Reeder.
"It was very cold and it is amazing because he must have been in there for a good five minutes under the water."
The baby was treated at Taunton's Musgrove Park Hospital and has since made a full recovery.
Mr Reeder, who was awarded the certificate for bravery by Somerset County Council, said: "I've lived in Watchet all my life and no one's ever gone over the wall before.
"But I'm just one of a team - I was just working as part of a team who helped save the baby.
"Everyone else did their bit too. I am glad we had a positive result."
But Councillor John Edney said despite Mr Reeder's modesty it was an "extremely brave act".
"He put his own life at risk in order to save Sam," he said.
"Somerset is very proud of what he did."