Bath Abbey car-free zone proposed by council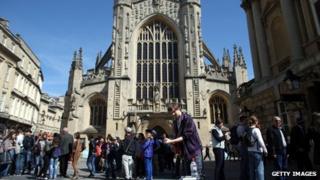 A traffic-free zone for the area near the Bath Abbey throughout the week is being suggested by Bath and North East Somerset Council.
Access will be restricted between 10:00 and 18:00 every day along streets including Stall Street and Beau Street.
Small businesses say the scheme will make deliveries more difficult.
Cabinet member Roger Symonds said: "There will be no bus routes affected and access to car parks will be exactly the same as before."
'Quite concerning'
Other streets included in the scheme are Abbey Gate Street, Lower Borough Walls and Beau Street.
The council has said the plan would extend a restriction already in place on Saturdays to make valid it seven days a week.
It is part of a wider £27m package to improve public transport and accessibility for pedestrians.
The hope is to improve footfall by giving pedestrians and cyclists priority.
But some traders are worried it will stop people wanting to shop in the city centre at a time when the economic situation is already putting pressure on local businesses.
Bath city centre manager Andy Cooper said: "The concern is coming from the smaller retailers who don't have any control over their supply chain.
"They can't control when their deliveries come in or maybe they are a small business which has about 70 or 80 suppliers and that for them is quite concerning."
The council said deliveries could still be accepted through the Freight Consolidation Service, which uses a small electric vehicle that delivers goods from Avonmouth to the city centre.
But traders say this service will add to their running costs.