Bath cycling circuit opens at Odd Down playing fields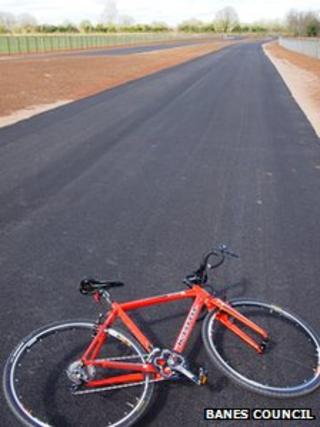 The first laps have been cycled on new £600,000 track in Bath.
The 1.5km circuit at Odd Down playing fields has been funded by British Cycling.
It is one of only 17 closed road cycling circuits in England and the first purpose built facility in the South British Cycling region.
The cycle circuit is the first phase in the planned redevelopment of the whole Odd Down site, which will include an artificial-turf pitch.
Bath and North East Somerset Council has been working with the three main cycling clubs in the district - Bath Cycling Club, Velo Club Walcot and Somer Cycling Club - to set up a new Youth Cycling Alliance for the circuit.
The new youth group has been named Sulis Scorpions, following a competition run through local primary schools.
The first people to cycle on the track included Alex Bird, aged nine, who suggested the name of the new youth group, and 11-year-old Lakee Sivaraya, who won the written competition: 'Why I should be the first person to cycle the circuit'.
Matt Creed, Somer Cycling Club's captain, said: "It's fantastic to have such a great circuit and resource so close to home.
"Cyclists from the Radstock area previously had to travel long distances to race on safe closed circuits so the new circuit is sure to be a big hit.
"Add to that the opportunity it will provide for children to learn to cycle in a safe environment and I think we're in a very fortunate position."