Bath pupils win world robotics championship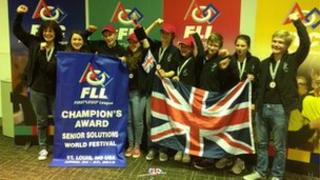 A world robot-designing championship has been won by a group of children from Bath.
The team of seven, aged 11 to 15, who call themselves Untitled 1, represented the UK in the First Lego League World Festival in St Louis, Missouri, USA.
They built a robot to complete a series of missions, and designed a doorbell for elderly people which recognises visitors by their fingerprints.
More than 20,000 teams from around the world entered the contest.
'World champions'
The children, from King Edward's School and Ralph Allen School in Bath, were invited to St Louis after winning the First Lego League UK.
Each team was tasked with designing an innovative product to make life easier for elderly people, and building a robot to complete a number of tasks in a live competition.
Untitled 1 designed an "intelligent" doorbell which recognises visitors by scanning their fingerprints and informs the elderly resident who is at their front door via a screen display.
For someone with poor mobility or dementia, it can automatically open the door for recognised visitors.
The team's mentor Mandy Gaskin said: "They are the world champions in the First Lego League competition - the best out of 21,000 teams worldwide.
'Inconceivable hope'
"It's about developing skills across a very broad spectrum and getting children to articulate their ideas, to innovate with new things, to work together and solve problems.
"We are a bit shell-shocked. I am in awe of their achievement - they deserve it."
Fifteen-year-old Freya Alder from Ralph Allen School said: "Going to America was our prize, so actually winning was an inconceivable hope which we didn't really think about that much.
"There was so much enthusiasm, it made me feel very small even though we're the champions.
"We started off by researching all the different problems that older people face. We went to Age UK's day care centre in Bath and spoke to lots of people."
She said they were now working on a prototype for the doorbell and that the council had expressed an interest in trying it out in some of its homes.