Wells Bishop's Palace stone seat for garden of reflection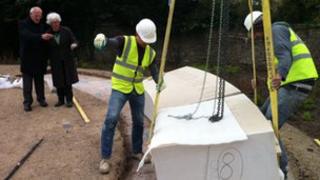 A 40ft (12m) stone seat has been lifted into the grounds of the Bishop's Palace in Wells as part of ongoing work to create a new garden of reflection.
The garden was the idea of the Right Reverend Peter Price who retires as Bishop of Bath and Wells in June.
It is in the former kitchen garden which was once a derelict space, behind the well pools next to the cathedral.
"The garden is designed to give people space to explore their own spirituality," said Bishop Price.
"Countless people come to the palace and in particular its gardens, because of the tranquillity and calm.
"Such a space may provide much needed peace in coping with the struggles of life without the constraints of a church or cathedral building."
The seat has an extract from a poem by Spanish poet Antonio Machado carved into it which reads: "Wanderer, there is no path, the path is made by walking".
The Bishop's Palace has been home to the Bishops of Bath and Wells for more than 800 years.
The new garden of reflection is due to open to the public in July.