Bath's disused Colonnades at centre of redevelopment plan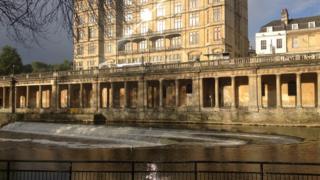 Plans to reopen 17th Century Colonnades with cafes and restaurants as part of a £5m development of Bath have been given the go ahead.
Councillors at Bath and North East Somerset have approved the four-phase Grand Parade and Undercroft project.
The first phase involves reopening the Colonnades next to Pulteney Weir, in the city centre.
The Bath Preservation Trust said it supported the plan as long as it was done "sensitively".
'Beautiful buildings'
The project includes:
Phase 1: the Colonnades and Empire Colonnades, including reopening access routes via Boatstall Lane, Parade Gardens and Slippery Lane
Phase 2: enhancing Bath Markets
Phase 3: redeveloping Newmarket Row, including residential accommodation on the upper storeys
Phase 4: other development opportunities such as Pulteney Bridge and Boat Dock
"Bringing back the Colonnades to life has to be a good thing," said Caroline Kay, from Bath Preservation Trust.
"It's a most important space, under the levels of Bath that we're used to, that sits there looking potentially beautiful and in reality unused."
The council hopes the project will bring in a revenue of more than £300,000 a year.
A number of "positive responses" have been received including several Michelin Star restaurants, the council said.
'Future jobs'
"We've already had 15 firm indications on restaurants that would like to come here," said Councillor David Bellotti.
"This is going to be a romantic location, and I think people will want to come here, have some food, a glass of wine, look at the weir, and just enjoy the past while actually it's providing jobs for the future."
Talks are taking place between English Heritage, Guildhall Market traders and Bath Tourism.
"I wouldn't like to enter into a debate about whether this is yet more competition for other players in town really, but the fact they are intending to get those spaces let before doing the work I think is positive. It reduces the risk," Mr Bellotti added.