Medals ceremony and homecoming parade for 40 Commando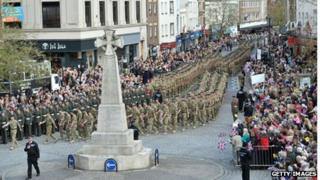 Medals have been handed out to about 700 Royal Marines from 40 Commando at Norton Manor Camp to mark their fourth and final deployment to Afghanistan.
The Duke of Edinburgh presented the medals watched by 6,000 friends and family of the service personnel.
Capt Joel Durbridge said: "It really marks the end of an era that dates back to 2001."
Earlier 40 Commando held a parade through Taunton attended by about 15,000 people.
Capt Joel Durbridge added: "It started with Operation Veritas, when elements of 40 Commando went into Afghanistan for the first time.
"You'll see guys here today that haven't just done Herrick 17 but probably been in almost all those operations.
"This does mark the end of a long period for 40 Commando."
In this final tour, one Royal Marine, Cpl David O'Connor was killed on duty.
His death brought the total number of lives lost in the unit to 18, since the 40 Commando was first deployed to Afghanistan.
Their lives were remembered throughout the day's events.
Also attending the ceremony was the lord-lieutenant of Somerset, Lady Gass as well as other local dignitaries.
Commanding officer Lt Col Matt Jackson said: "It's a significant moment for us because Prince Philip is the captain general of the Royal Marines so he is the most important person within the Royal Marines."
Earlier in the day the parade saw crowds made up of local cadets, veterans and relatives of the Royal Marines as well as thousands of well-wishers.
Previously, Royal Marines marched through the town in 2008 and 2010 after deployments to Afghanistan.
Carol Atcheral, who watched her son John march, said: "It's wonderful to see him, it's so great but they're all so young and so fit."
Martin Yates, who served for 16 years with 40 Commando and retired from the Royal Marines in 2009, also watched the parade.
"It certainly brings back a few memories - I was lucky enough to march through the town after the Gulf War [Iraq war] in 2003 so to see the lads here today is great," he said.
At the end of the parade, an address was made by the town's mayor, Libby Lisgo, to thank the unit and to remember those who lost their lives.
In 2010, during Operation Herrick 12, the unit experienced its heaviest losses when 14 Royal Marines lost their lives.
Lt Col Jackson also made a speech.
He said: "I would just like to say a final thank-you to all of the local charities and individuals who have supported us while we've been away and finally to the families because it is they who we leave behind to do what we do.
"It is very much appreciated because we wouldn't be able to do it without their help and support."