RAF Westonzoyland memorial centre planned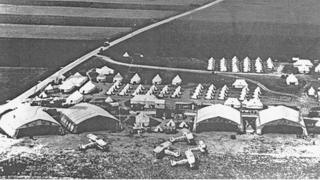 Plans have been revealed for a memorial centre to honour the pilots and crews who died at an airfield in Somerset.
RAF Westonzoyland, which was used as a training base for pilots who flew the early jets such as the Meteor, was in operation from the 1920s to 1958.
Historian Robbert Turner said: "They were doing a lot of low-level flying here with sorties out over the Bristol Channel."
The history of the RAF base would also be showcased at the memorial centre.
'Pilot's dreamland'
The airfield was located between Westonzoyland and Othery, but only some patches of land covered in concrete and some abandoned buildings remain.
Mr Turner is hoping to build a permanent centre in the village of Westonzoyland.
He said: "After the First World War and the inception of the RAF, this would have been the earliest days of that new organisation, and they were scouring the whole part of the southern region of the country looking for a suitable site.
"After they came to Westonzoyland they didn't look any further - back in those days there weren't many trees to worry about, no electrical overhangs.
"It was a pilot's dreamland, really."
The village of Westonzoyland has 13 graves of those who died at the airfield and, according to Mr Turner's research, another four pilots lost their lives at sea during sorties over the Bristol Channel.
It is believed between 700 and 800 pilots lost their lives during the early years of the jet age across the country.
'Flying coffins'
"We're talking the early 50s," Mr Turner said.
"Although people don't realise it, these jets - or the early versions of them - were flying in 1951, 1952.
"Some of these were not ejector-seat installed, so really there was no chance of escape if something went wrong at low level.
"A friend of mine, Ian, was as a young boy offered a flight in one of those but he turned it down, as they were known as flying coffins," added Mr Turner.
The aim is to collect more stories from people who either worked or lived near the base to compile a history of the airfield.
This project will run in tandem with fundraising efforts for the new centre.