Catherine Wells-Burr death: Killers made key mistakes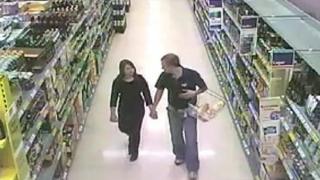 An elaborate plan by a man and his ex partner to kill his girlfriend for her life insurance was foiled after the murderous pair made a series of basic mistakes.
Polish factory worker Rafal Nowak, 31, and his ex-girlfriend Anna Lagwinowicz, 32, hatched an intricate plot to murder Nowak's partner Catherine Wells-Burr in order to claim the £123,000 policy.
The 23-year-old was smothered in her sleep before her body was dumped in her car, which was torched in Ashill, Somerset, on 12 September last year.
Motivated by money, Nowak and Lagwinowicz had not only planned to murder Ms Wells-Burr, but also attempted to blacken and tarnish the name of the "whiter than white" university graduate.
Their plan was quickly uncovered by detectives, who linked the pair through three different SIM cards which revealed extensive phone contact between the former partners.
Petrol
Nowak and Ms Wells-Burr bought their first home together in Chard last February and obtained life insurance for both parties - naming each other as the sole benefactor.
But between April and September Nowak, who also had a wife and child in Poland, and Lagwinowicz met 87 times and hundreds of phone calls were made between the two.
They set up fake profiles under their victim's name on explicit dating and social network sites, along with profiles for "mystery men" - run by Lagwinowicz - who would contact Ms Wells-Burr's genuine site.
They used her photo and placed it next to pornographic images - making them look like her - trying to create the impression she was "promiscuous".
But on the night of the murder they would need a third person, and Lagwinowicz's uncle Tadevsz Dmytryszyn agreed to help his niece.
On 10 September Lagwinowicz and Dmytryszyn were seen on CCTV buying five litres of petrol. Police believe the plan was in place to kill Ms Wells-Burr as she slept that night.
But the plot was scuppered by a chance wrong number phone call which woke her up and led to the crucial mistake which would be the trio's unravelling.
Nowak was forced to abandon his plan and at about 03:00 Lagwinowicz used the wrong SIM card in her phone to contact Nowak to find out what was happening.
Police later found that she had three different SIM cards - one to contact Nowak, one to contact Ms Wells-Burr, posing as mystery men, and the last for her general use.
Det Insp Sim Cryer, of Avon and Somerset Police, said: "This is where we had our big breakthrough that actually opened this job out for us. We could then link through the phones all the phone traffic."
Two days later, the plan was back on.
Nowak killed his girlfriend between 02:00 and 03:00 using a pillow from their bed.
Lagwinowicz and Dmytryszyn then moved her body into the boot of her Ford Focus, before they drove it away.
Nowak went to work at 05:10, but as he left he was spotted by his neighbours - who also noticed Ms Wells-Burr's car was not outside the house as it usually would be.
At 05:17 Lagwinowicz and Dmytryszyn used their victim's phone to send a message to the "mystery man" SIM card - a message which Lagwinowicz had drafted on post-it notes that were later found in her flat.
Once they were certain Nowak was in work, they set fire to the car next to a main commuter route, providing reliable information on the timing and securing an alibi for Nowak.
Difficult process
During a police interview Nowak tried to deny there had been any life insurance for Ms Wells-Burr at all, instead suggesting one of the mystery men was responsible for her death.
But his efforts to evade justice failed and Nowak, Lagwinowicz and Dmytryszyn were all charged with murder within days.
While awaiting trial, Lagwinowicz continued to try to outwit the authorities.
She wrote a letter from prison claiming to be a hitman hired to kill Ms Wells-Burr by Nowak, in an attempt to extricate herself and her uncle from the crime.
Once again her plan was undermined by a basic mistake. She asked a fellow inmate to post the letter, but it was handed into the police instead.
The investigation into the murder was worked on by 200 police officers, who looked at 3,000 exhibits - hundreds of which were sent for forensic examination.
"It was a very difficult process. On the face of it there was no relationship between Rafal Nowak and Anna Lagwinowicz," senior investigating officer, Det Ch Insp Simon Crisp, said.
"But through a process of detailed phone examination, overlaid with the clocking-in data at the Numatic factory by Rafal Nowak, ANPR - automatic number plate recognition - data from Anna's car, the true nature of their relationship became clear.
"The fact that an innocent life has been lost here for such a small amount of money, I think speaks of the character of those involved in this killing."