Catherine Wells-Burr: Rafal Nowak denies burning documents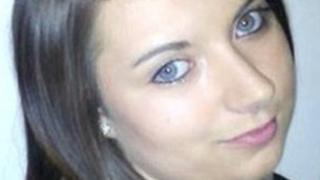 A man accused of murdering his 23-year-old girlfriend as part of a plot to benefit from her life insurance has denied burning a copy of the policy.
Rafal Nowak, 31, told Bristol Crown Court he had been given a copy of the policy booklet months before the death of Catherine Wells-Burr in Somerset.
The court heard the ringbound booklet had never been found, but Mr Nowak denies burning it in his garden.
Ms Wells-Burr was smothered last September. Mr Nowak denies her murder.
He told the jury that he had given the booklet to Miss Wells-Burr.
Patio doors
His former partner, Anna Lagwinowicz, 32, and her uncle Tadevsz Dmytryszyn, 38, are accused of disposing of her body.
An alleged plot is said to have been hatched between the three Polish nationals, resulting in the body of Miss Wells-Burr being discovered in her burning car in a field in Chard.
Mr Nowak agreed with prosecutor Richard Smith QC that Miss Wells-Burr must have been dead before her body was moved from the house and told the jury it was likely that her body had been removed through the home's rear patio doors.
However, following questioning from Mr Smith, he said that only he and Catherine knew where the keys to the patio doors were.
"Then how did this person unlock the back door? It is rubbish to suggest they went out of the back door if you weren't involved," said Mr Smith.
'Blame anybody'
Mr Nowak replied: "I don't know. They could have looked everywhere. It's not a massive house."
In the conclusion of his cross-examination, Mr Smith told the defendant: "She was killed by you. You put a pillow over her as she slept and took her life from her.
"Ever since then you have been doing everything you can to blame anybody you can."
A tearful Mr Nowak insisted he did not kill Miss Wells-Burr and told the jury she was alive when he last saw her.
Mr Nowak, of Willow Way, Chard; Ms Lagwinowicz, of South Street, Taunton; and Mr Dmytryszyn, of Holway Avenue, Taunton, deny murder.
The case continues.