Baroness coach plunge driver may face arrest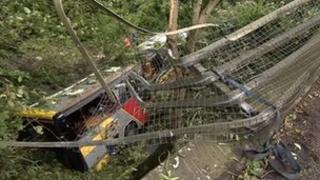 The driver of a coach that plunged off a viaduct near Bath has been warned he could be issued with an arrest warrant if he fails to attend court.
Norman Markus was driving the American rock band Baroness at the time of the crash in August last year.
Lawyers for the German national said he is too ill to return to the UK.
His barrister has previously said a summons served on his client to attend court earlier this month was not valid because it was served in Germany.
A request for Mr Markus to appear via video link has now been made.
If the defence team does not respond within 28 days, an application for a European Arrest Warrant will be made by the prosecution.
Broken limbs
Neither Mr Markus's barrister, Jonathan Turner, or Mr Markus himself attended Bath Magistrates' Court for the latest developments.
Several members of the band were seriously injured in the crash, at Brassknocker Hill, Monkton Combe, with one suffering a broken arm and leg in the 30ft (9m) plunge.
District judge Lynn Matthews said she had seen correspondence from the defendant's solicitors that he was receiving treatment from his doctor which would make it difficult for him to return to the UK at the moment.
She has ordered a medical certificate to be compiled explaining his "current position and prognosis".
"If that's not here within 28 days, I would expect the prosecution would pursue the other avenue because this cannot be allowed to drift," she added.
"In the 28 day adjournment, I would also ask prosecution to liaise with Bristol Magistrates' Court [the closest court with a video link] and to make inquiries as to exactly where the defendant resides, so we can ascertain whether a video link is available very close to him.
"I really do expect progress one way or another."
'Dangerous driving'
Mr Markus had been summonsed to attend Bath Magistrates' Court on 10 May for a preliminary hearing.
The CPS said in February he was to be charged with dangerous driving, using a vehicle with defective brakes and breaching a 7.5 tonne weight limit.
It said he was also facing charges of taking insufficient daily and weekly rest periods, using a vehicle in a condition likely to cause danger of injury, and not having the correct licence entitlement to drive the coach involved in the crash.
But Mr Turner told magistrates that if Mr Markus chose not to attend court "nothing can be done" because the summons was not served in the UK.