Bath Abbey's chandeliers get 'green' make-over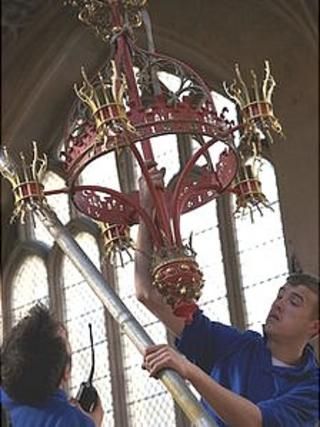 Chandeliers installed at Bath Abbey nearly 150 years ago have been fitted with energy-efficient LED lights.
The 15 chandeliers, designed by Francis Skidmore in 1870, were adapted to gas in the 1900s and electric in 1978.
But according to an Abbey spokeswoman, the 1970s electric fittings not only "obscured" the chandeliers but provided inadequate lighting.
Now, following a £63,700 donation and £8,000 grant, they have been restored to their original "design intent".
"We are delighted with our new, improved chandeliers," said Charles Curnock, from the Abbey.
"The chandeliers are now not only more beautiful, they're far more energy efficient and enhance the overall appearance of the Abbey."
Dr John Wroughton, chairman of the Friends of Bath Abbey which donated the funds, said the newly transformed chandeliers also provide a "much improved light source".
"As well as the chance, for all who visit and worship in the Abbey to appreciate the original design for the first time in 100 years," he said.
The restoration is part the Abbey's £18m long-term development project, due to begin in summer 2014.