Bath Fringe Festival sorry over 'pornographic' film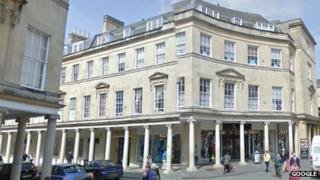 The Bath Fringe Festival has apologised over an art installation which featured film of a man masturbating.
The film was shown as part of a public exhibition at The Officers Club in Stall Street.
Ian Dore, who visited the gallery at the weekend with his 17-year-old niece, said the "hardcore pornographic" film was "absolutely shocking".
Police were called to the gallery but said no offence had been committed. The festival has since removed the film.
Mr Dore said: "Anybody could have walked in and seen it and there were children there. It was absolutely shocking.
"My niece was appalled and clearly upset, I can't speak for the others in the gallery as they had walked out."
Clips from internet
Simon Whitby, a spokesman for Avon and Somerset Police, said officers had visited the art gallery after receiving a complaint.
"We concluded that there was no offence being committed, and spoke to the gallery curator about the possibility of installing signs and perhaps a barrier so that members of the public would know about the DVD content before they viewed it.
"We understand that the DVD exhibit was removed."
Fringe Arts Bath Festival, which is is part of the annual Bath Fringe Festival, began on Friday and continues until 9 June.
A festival spokesman apologised for any upset caused by the film.
The video exhibit was created by four artists who curated clips from the internet which was played on a loop.
Visual arts festival organiser Aaron Hodgson said material that could be deemed inappropriate was normally flagged up and checked but on this occasion the inappropriate material was missed.