Ansford rail bridge repairs could cost local economy £850k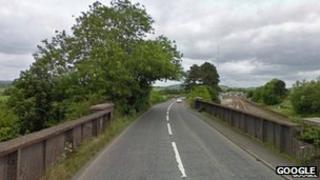 More than £850,000 will be lost to part of the Somerset economy during road repairs lasting five months, estimates suggest.
South Somerset District Council's figures relate to Network Rail's plan to repair the A371 Ansford Bridge, near Castle Cary.
While the bridge is closed for repairs, some local drivers will face an 18-mile diversion.
The work is due to start on 8 July and is expected to take 19 weeks.
It was due to start in September but was postponed following complaints about poor consultation.
South Somerset District Council said seven local companies had calculated their increased labour, fuel and vehicle maintenance costs resulting from the road closure to be £862,451.
The businesses polled include a pet food supplier, a waste management company and a cheese-maker.
After negotiations with Somerset County Council, Network Rail reduced the original road closure programme from 24 weeks to 19 weeks.
Temporary bridge
About 400 Castle Cary residents attended a public meeting earlier in May to discuss the issue. They want a temporary bridge put in place while the work is carried out, but Network Rail said this would be cost prohibitive.
Some local companies also want Network Rail to compensate them for loss of business, but the train operator said there was no legal basis for such a claim in the absence of physical damage to property or person.
A spokesman said: "We have engaged with local businesses and have looked at options to assist them and have accommodated their preferred timescales for this work.
"We have made companies and members of the public aware of these planned works in advance and we always aim to complete works with minimal disruption.
"However, on some occasions highway closures cannot be avoided. If areas of the highway are not closed then this may pose a direct risk to members of the public."