Two stolen medieval vases returned to Bath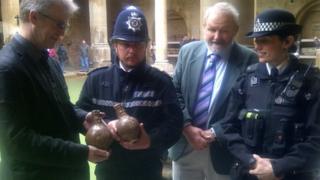 Two medieval vases, stolen from an archaeological dig in Bath five years ago, have been returned.
PC Peter Hunt and PC Gemma Kirby turned treasure hunters when one of the Bellarmine vessels, dating from 1650, turned up for sale on eBay.
They worked with the Museum of London Archaeology and tracked down the vessels to a narrowboat in Oxfordshire.
"It was one of the more unusual crimes I've had to investigate," said PC Hunt of Avon and Somerset Police.
"It's a great pleasure to be able to play a part in returning items of Bath's heritage to their rightful owner."
Bellarmine jugs were named after Robert Bellarmine, a saint and cardinal of the Catholic church, and were traditionally used as protection against witchcraft and magic.
'Very important'
The Museum of London Archaeology carried out the excavation dig during the redevelopment of the SouthGate shopping centre.
Two of the recovered vases have been handed over to the museum with a third to follow.
The vases will be returned to the Roman Baths Museum after further examination.
Roman Baths manger Stephen Clews said: "These vases are very important to us because we don't have many objects and artefacts from medieval Bath that give us a better picture of that period in the city's history."
James Vessey, 35, who worked for the Museum of London Archaeology, admitted theft at Bath Magistrates' Court.
He was given a four-month prison sentence suspended for 12 months, given a 12 month supervision order and ordered to carry out 270 hours of unpaid community work.
Vessey was ordered to pay £450 in costs and to compensate the man who bought the vase from him.