New cycle trails open at Wimbleball Lake on Exmoor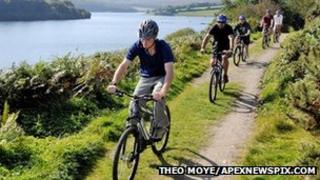 Three new cycle trails aimed at users of all ages have opened on Exmoor.
The trails at Wimbleball Lake were developed by the 1 South West Project, South West Lakes Trust and the Exmoor National Park Authority.
The aim of the project partners was to ensure the trails complemented the landscape in the area.
South West Lakes Trust chairman, Keith Bungay said it was a "good example of working together with others to provide and promote the best facilities".
He added that their aim of the initiative, funded through the Government's Rural Development Programme, had been to "protect the countryside for future generations".