Bath Newark Works protester makes two-year turnaround claim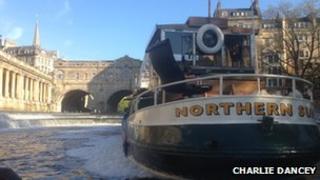 A man who is protesting about the derelict condition of an 18th Century factory in Bath says he could bring the site back into public use in two years.
Charlie Dancey wants to see the former Newark Works building turned into a community facility as part of a wider plan to regenerate the riverside.
Bath and North East Somerset Council said the site was a key part of the city's new enterprise zone.
It "will play a crucial part in Bath's future", said a council spokesman.
Mr Dancey is a member of the South Quay Community Arts Project organising the protest.
He has moored his barge at Pulteney Weir in the city centre to draw attention to his concerns and has urged the council to meet him to discuss his ideas.
Previously about 30 campaigners had spent two weeks squatting at Newark Works to highlight its decaying state.
Creative industries
"Ideally, it should remain in public ownership and be used for art galleries and museums with a bridge over the river to open up the south bank," Mr Dancey said.
"This is an historic quayside - let's not turn it into hi-tech business premises - let's open it up as a place people would want to walk to and visit."
Analysis carried out on behalf of the council claimed there was the potential to create up to 9,300 new jobs - 3,500 of them by 2017 - in the area.
"Creation of an enterprise zone and enterprise areas will be a major attraction to a wide range of businesses who are currently not operating in the west of England," said a spokesperson for professional services firm PricewaterhouseCoopers.
The council hopes to attract creative industries, professional and financial services, engineering consultancy activities, software businesses and other computer-related work to the enterprise area.
But Mr Dancey said the council was not looking after the building and he feared for its future.
"If it's left for another winter it may be too late to save it," he said.
"Give me two years to see what I can do to bring it back into life."