Cheddar Reservoir 'transport plan' for construction traffic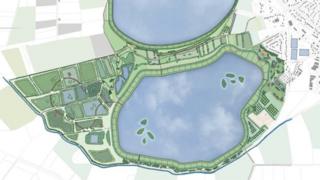 A transport plan will aim to minimise the impact of construction traffic during the building of a £100m reservoir, Bristol Water has pledged.
The company was responding to concerns raised during a public consultation into the building of Cheddar Reservoir Two.
Traffic was the biggest worry for local residents followed by the loss of trees, hedgerows and farmland.
The company has admitted it will not be possible to replace the farmland.
The access and movement of construction traffic was identified as a "clear concern" by residents, including the impact of additional HGVs on the roads.
Bristol Water said that as well as planning when construction traffic can move - to avoid peak traffic periods and late nights - it would also draw up a construction environmental management plan to minimise the effect on the condition of the roads.
The company published its refined proposals in a newsletter following the first stage of the public consultation.
Reservoir project spokesman Jeremy Williams said the newsletter "shows how we have responded to feedback regarding the first stage of consultation and details the timetable for the second stage".
Three public exhibitions will be held in Cheddar and Axbridge on 27, 28 and 29 June.