Somerset council objects to nuclear waste transfer option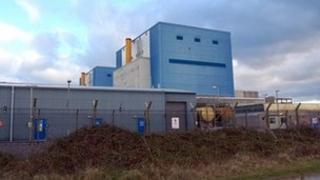 Proposals to transport nuclear waste in to Somerset ignore public health and safety, a council has warned.
The Nuclear Decommissioning Authority (NDA) is considering using the Hinkley Point A site to store waste from the former Dungeness power station in Kent.
West Somerset Council's cabinet has heard a report recommending it objects to the proposal.
Bill Hamilton, from the NDA ,said their priorities were focussed on safety, security and cost-saving.
Moving Dungeness' waste to Hinkley Point A is one of eight options being considered by the NDA.
The other options, involving seven former power stations, include each site storing its own waste and a reduction in storage sites meaning waste would be received from one or two other sites.
'Public health'
A second proposal is also running on whether Hinkley Point A could be used for the treatment of fuel element debris (FED) from other sites.
West Somerset councillor Chris Morgan, responsible for environment, said: "It makes more sense to keep it together in the place where it is produced.
"I think there is a certain disregard here for public health, safety and security in moving it long distances across the country.
"At the end of the day we are looking at intermediate level waste and fuel element debris - that is material that is coming out of the reactor itself."
Mr Hamilton said the radioactive waste would basically be the rubble, steel and materials from the buildings in and around the reactor.
He said it was "held very securely and very safely" encased in concrete and kept in secure metal boxes in a safe building - well away from people and the workforce.
'Respect and dignity'
"We were brought in to existence back in 2005 by the government to, on behalf of the nation, take a look at all the old nuclear plants across the UK," he added.
"What we've been doing is developing a strategic overview of all of our sites in order to be able to plan ahead to keep this stuff safely and securely before it can go down a geological disposal facility which will be built in the next 20 or 30 years."
Mr Hamilton said one or two preferred options would be chosen by the end of the year with further consultations being held before a final decision is made next spring.
The issue will be debated by West Somerset Council at a cabinet meeting on 26 June.
In other developments, a major deal on pay conditions has been signed between EDF - the energy firm behind the new Hinkley Point C power station - and workers' unions GMB, Ucatt and Unite.
Phil Whitehurst, GMB construction officer, said: "They will be directly employed, well rewarded, and treated with respect and dignity supported by the trade unions under the structures negotiated over the past twelve months or so with EDF."