Catherine Wells-Burr's murderers jailed for life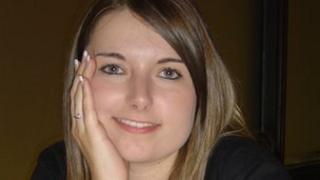 A man who murdered his girlfriend to claim her six-figure life insurance policy has been jailed for life.
Rafal Nowak, 31, smothered Catherine Wells-Burr, 23, as she slept at their home in Chard, Somerset, in September.
At Bristol Crown Court, he was ordered to spend at least 32 years in prison.
His accomplices, ex-girlfriend Anna Lagwinowicz, 32, and her uncle Tadevsz Dmytryszyn, 38, got the same sentence. They disposed of Ms Wells-Burr's body in her car before setting it on fire.
'Dreadful, pitiless crime'
The three, all Polish nationals, were convicted of Ms Wells-Burr's murder on Friday.
The court heard she was killed for a £123,000 life insurance payout and a half-share of the £137,000 house she shared with Nowak, a factory worker.
Mrs Justice Sharp told the three the murder was "a dreadful, pitiless crime committed in cold blood in gross breach of trust".
"Rafal Nowak, the images of you leading Catherine by the hand the evening before her death, buying items for what you knew was her last meal, are utterly chilling," she said.
"Anna Lagwinowicz, your conduct has been deceitful, manipulative and cruel.
"You played your full part in this wicked crime. So did you, Tadevsz Dmytryszyn."
Ms Wells-Burr's family wept as the sentences were passed.
The trial heard how Lagwinowicz and Dmytryszyn took Ms Wells-Burr's body and drove it in her red Ford Focus to a countryside beauty spot, at Ashill.
They placed the body in the driver's seat and set fire to the car 20 minutes after Nowak had clocked into work at Numatic International, in the hope this would provide him with the perfect alibi.
False trail
The jury heard how Nowak and Lagwinowicz had met to plot the murder on up to 87 occasions and exchanged hundreds of phone calls on prepaid Sim cards.
They also spent months leaving a false trail for detectives, creating fake profiles for Ms Wells-Burr on adult websites and sending texts to her phone from a supposed mystery lover.
During the trial, Nowak wept in the witness box as he insisted he had played no part in the death of his "true love".
After sentencing, the judge read statements from Miss Wells-Burr's mother Jayne, 46, and sister Leanne, 21.
"Catherine was a considerate, loving, sincere, generous, loyal, caring, exceptional and amazing girl. She had a bright promising future ahead of her with so much potential," he said.
"Our world has fallen apart.
"The manner of Catherine's death, the cruel, calculating, wicked murder and the hatred shown to her will haunt us for the rest of our lives.
"I didn't get the chance to say goodbye or to tell her I loved her or for Catherine to say, 'I love you Mummy'."
Leanne Wells-Burr wrote: "She was so special to mum, dad and me. To think we have to try to carry on living without her is so hard. Catherine did nothing but love him."
Speaking later outside the court, Det Ch Insp Simon Crisp said: "We are extremely pleased with the life sentences handed to these three evil people.
"For the next 32 years, they'll have time to reflect on what they have done.
"While this sentence will never bring Catherine back I hope it goes some way in providing some closure knowing that justice has been done."