Weston General Hospital 'must improve patient care'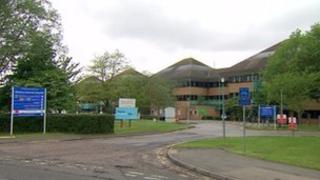 A hospital in a Somerset town has been issued with two formal warnings to improve the care of its patients following an unannounced inspection.
Weston General Hospital was criticised by the Care Quality Commission (CQC) for not "respecting people's privacy, dignity and independence".
The CQC said it was concerned to find the "same failings" which had been identified in a previous inspection.
Weston Area NHS Trust said it had taken "immediate action" to improve care.
'Left humiliated'
The CQC spent three days at the hospital in April to follow up concerns about the standards of care and to check whether improvements, required from a previous inspection in August, had been made.
Ian Biggs, from the CQC, said "When we last inspected Weston General Hospital we found that all too often, patients privacy and dignity were not properly respected - and it is a matter of concern that we have found the same failings in all of the patient areas we visited.
"We heard too many stories of people who weren't getting the help they needed, or whose appeals for assistance went unanswered, and who were left humiliated or simply left to wait."
Mr Biggs said inspectors were told by nurses - in all the wards they inspected and in the accident and emergency department - they were "overstretched".
He said the trust had acknowledged it must recruit more nurses but action was needed to give patients services which were "safe, effective, caring, well led, and responsive to their needs".
'Staff shocked'
He said the CQC would return unannounced in the near future to ensure the changes had been made.
Chief executive of the trust Nick Wood said: "Staff here were shocked by some of the findings of the CQC inspectors and we have taken immediate action to improve care."
He said the hospital had been "under intense pressure" during the winter but said "this is not an excuse for poor standards".
He said they were recruiting more permanent nursing staff and had written to all employees encouraging them to report any concerns to him directly.
He added: "Weston is a safe hospital. The CQC found no evidence of care that put patient safety at risk and we have one of the best records on patient mortality in the country.
"Although disappointing, we are grateful to the CQC for highlighting areas where we need to concentrate efforts. We are all determined to raise standards."
Local Conservative MP John Penrose said: "The CQC say they're happy with the quality of medical treatment at Weston hospital, so it's still getting high marks for curing patients and helping them get better, but people are entitled to be treated with dignity and care during their treatment too.
"Weston needs a hospital we can all be proud of."