Bath's North Parade bridge lighting columns restored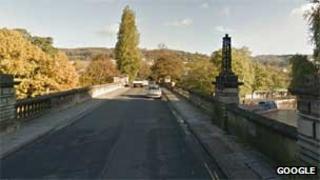 Four Victorian iron lights on North Parade Bridge in Bath have been restored to their former glory.
The original iron bridge was built in 1836 and later clad in stone in 1937.
One of the lighting support columns was lost when it was knocked into the river in the 1990s when a car crashed into the bridge.
Bath Preservation Trust, Banes council and the World Heritage Enhancement Fund have paid to replace the lost light and refurbished the remaining three.
"It is important that the city refurbishes and restores historical items, like these lighting columns, to ensure there is always a part of our past which continues in our future," said Councillor Ben Steven.
The bridge spans the River Avon downstream from Pulteney Bridge in the city centre.