Bridgwater launches £4m cycling project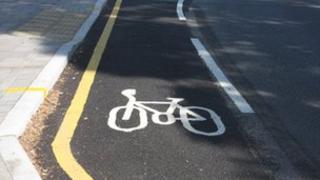 A £4m project to provide 10.5km (6.5 miles) of cycle routes and footpaths in a town in Somerset, is under way.
The county council secured a government grant in 2012 for Bridgwater to boost cycling and walking in the town.
Part of the grant will also be spent on lighting and better signage to improve road safety, as well as initiatives to get people to leave their cars at home.
Councillor Harvey Siggs said it would provide "safe and affordable ways" for people to get around as the town grows.
The bid for the money was put together by the council and cycling campaign group Sustrans.
"Bridgwater is growing and developing which is great, but we do have to think about how people can get around quickly, sustainably and cheaply," said Mr Siggs.
"The Bridgwater Way will provide safe and affordable ways to get to work and education, beat congestion as well as help keep people fit and healthy."
The project will also include cycling events, travel planning for businesses and help to get old bikes back on the road.
Adrian Roper, from Sustrans said the project would encourage people to choose "walking, cycling or taking the bus".
"The Bridgwater Way will deliver a range of opportunities that will help people think of these sustainable travel choices as their first choice," he said.