'Fire' gel on Bath buildings to deter gulls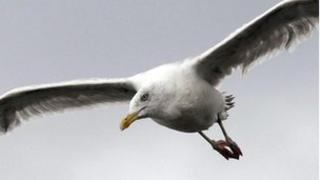 A gel that dupes urban gulls into thinking that buildings are on fire is being trialled in Bath.
The roof and parapets of the council owned Guildhall and Roman Baths Kitchen are to be painted with the clear gel in an effort to deter the birds.
The gel emits an odour the gulls dislike and an ultraviolet light that is perceived as a fire by birds.
Councillor David Dixon said: "We're just trialling it at the moment on a few buildings to see whether it works."
About £6,000 has been spent on deterring gulls by Bath and North East Somerset Council in the past year, including a trial of gull proof rubbish bags, and a recent report found urban gull numbers in the city centre had declined for a third year running.
"A lot of the buildings already have got spikes, but of course in a heritage city putting spikes and netting on all the buildings isn't really what you want," said Mr Dixon.
"So something like this fire gel - which is quite a discreet gel - is something that has less of a visual impact."