Somerset water vole project boosted by £10,000 grant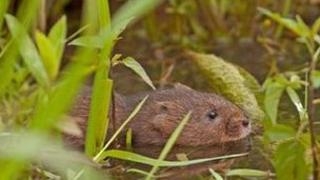 A rural campaign group's survey of Taunton's water vole population has been boosted by a £10,000 grant from the Environment Agency.
The British Association of Shooting and Conservation's (BASC) programme will assess the effect flooding in the region has on the endangered species.
The study will take place over the summer across the River Tone.
The Green Shoots programme forms part of a wider project of water vole conservation across the south west.
Across the country the population of water voles has dropped from 1.2 million to just 400,000 in 10 years.
Mink management
Water vole conservation depends on the control of the vole's predator, mink, and habitat management.
BASC spokesman Ian Danby said: "Mink can cause the local extinction of water vole populations within a few months.
"The BASC Green Shoots programme provides the vital habitat creation and mink control needed to allow the water vole population to thrive and I am delighted to continue our longstanding partnership with the Environment Agency."
The Environment Agency's Laura Thain said: "We are very pleased to be able to continue our valuable project work with BASC and look forward to gaining a better understanding of the status of water vole populations on the River Tone, particularly following the flooding of 2012."