Glastonbury Festival wi-fi tractor to keep people in touch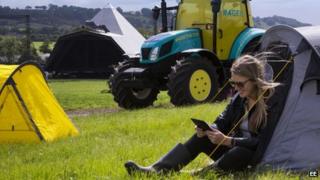 A tractor will be used to help people stay in touch at this year's Glastonbury Festival.
The vehicle has been converted into a 4G wi-fi hotspot and will be driven around the site at Worthy Farm in Somerset.
The eco-friendly tractor, belonging to festival organiser Michael Eavis, has been fitted with network equipment by mobile operator EE.
It will provide high-speed wi-fi access for anyone up to 33ft (10m) away.
EE brand director Spencer McHugh said: "Our 4G tractor demonstrates the innovative approach we're taking to bring the fastest mobile internet speeds to the UK in a uniquely Glastonbury way and uses similar technology to our fleet of 4G cabs trialled earlier this year."
EE will be tweeting the tractor's whereabouts so people know where to find it.
The festival gates open on Wednesday, with the main music acts performing from Friday to Sunday.