Fran Rossiter death inquest: Unlawful killing verdict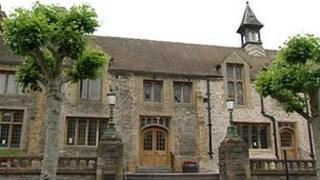 A British grandmother was murdered by robbers in Egypt after moving to the country to be with her young lover, an inquest has heard.
Fran Rossiter, 69, from Burnham-on-Sea, travelled to Hurghada three years ago to live with husband Sayyid Jamal Sayyid Shalaby, 26, a local fisherman.
She was found dead in her flat in June 2012, wrapped in a sheet in a cupboard.
Coroner Michael Rose ruled Ms Rossiter had been unlawfully killed in what he described as "a tragic case".
Married his cousin
"She was by all accounts a bright woman. She had gone out to Egypt on holiday and may have fallen for a somewhat younger Egyptian," the coroner for West Somerset added.
"I think probably at the beginning it was a happy relationship. I don't know if he was intending to fleece her or just better himself.
"It is not for me to say whether he betrayed her, it may be that he had. I don't know."
Ms Rossiter paid Mr Shalaby - whom she married in an Egyptian civil ceremony called an Orfi - an allowance of £200 a month and more than £15,000 for cars and other items, the inquest heard.
She also transferred a half share of her Egyptian apartment to him.
But Ms Rossiter discovered the money was actually being used to fund a new life for Mr Shalaby and his new wife - a cousin he had also wed in an arranged marriage.
The hearing was told their relationship became strained when Mr Shalaby became abusive and began demanding money to send to his family.
The mother-of-three decided to leave Egypt for good and told friends in England she would be returning home to Highbridge on 5 July.
'Intelligent woman'
But on 8 June last year, Ms Rossiter's sheet-wrapped body was discovered hidden in a bedroom wardrobe at her apartment.
The inquest was told she had been strangled with a cord and her neck was broken.
Egyptian authorities believe Ms Rossiter was the victim of a burglary by two local men - friends of Mr Shalaby - who plotted to murder her and steal items from her flat.
A third person - the wife of one of the men - is alleged to have taken the items, knowing that they had come from a murdered woman, to sell them on.
All three defendants deny the charges against them and investigations in Egypt are ongoing.
Ms Rossiter's friend Paula Hopley, from Bridgwater, told the inquest Ms Rossiter had been left "a shell of the character she had been" by the marriage.
"She had always been a gregarious character, full of life and was a friend to everybody," she added.
"She had lost a great deal of weight. On paper it might sound as if she was extremely naive but she was an extremely intelligent woman.
"He became threatening and aggressive, the friends he was bringing back to the flat she was extremely intimidated by. She was not easily intimidated."
A post-mortem examination found Ms Rossiter died from asphyxia by strangulation and her body has since been returned to England.
Prosecutors in Egypt continue to investigate the death, the coroner added.