North Petherton couple set for global charity tandem ride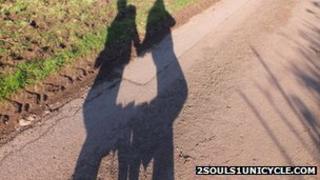 A couple from Somerset is preparing to cycle to the other side of the world on a tandem trike, a challenge they say will take two years to complete.
Lainie and Richard Travis from North Petherton are selling all of their belongings to help fund the trip.
The duo hope to raise £20,000 for two charities - Wiltshire's Help for Heroes and the Jim Cronin Memorial Fund.
They will travel through Europe, and visit countries including New Zealand, Australia, Thailand and Vietnam.
"I was medically discharged from the army a couple of years ago," said Mr Travis.
"I know what it's like to be in the forces and to be injured and to have to pick up the pieces of your life afterwards.
"I think what Help for Heroes is doing at the moment is fantastic."
Specially-commissioned trike
The Jim Cronin Memorial Fund supports the work of Monkey World Ape Rescue Centre in Dorset.
Mr and Mrs Travis have been planning the trip for five months and will leave on Tuesday.
They will use a custom-made tandem tricycle, known as a tadpole trike, which has two steered wheels at the front and one driven wheel at the back.
"The trike has been delayed in the build because it's been specially commissioned," said Lainie.
"We're hoping to get it Saturday, which means we've got a couple of days before we actually leave, to get used to it".
The couple, who have been married since December 2011, are planning to settle abroad when the challenge is complete, favouring Buddhist countries such as Cambodia or Vietnam.
"We're both Reiki masters as well, so we'd love to be able to do something like that abroad. I doubt we'll come back to Somerset," said Mrs Travis.
"Unless the climate radically changes and it's about 15 degrees warmer all year round," added Mr Travis.