Radstock village hall to be overhauled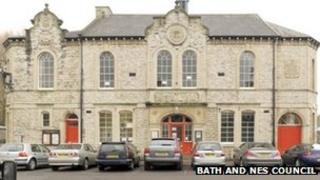 Work has begun to overhaul a village hall in Somerset in a £660,000 project.
Victoria Hall in Radstock will have its electrics rewired, new toilets installed and a new cafe built.
Bath and North East Somerset Council leader, Liberal Democrat Paul Crossley, said the aim was to "pump fresh blood into the heart of Radstock".
A dance school will be based at the hall and work is expected to be completed by the end of the year.
Artistic ambitions
Sue Hill Dance will lease part of the building and the rent will go back to the local taxpayer, the council added.
The project will be funded using £160,000 from the Radstock Regeneration Fund with the remainder from the council's contingency funds.
A gallery will also be available for use by local artists on a monthly basis, and three studio spaces will be used for functions.
Events would also be held in the larger hall upstairs.
The hall was shut down last May after concerns over the building's electrics, which a survey described as "a clear danger of fire or risk of death".