Lifeguards introduced on Somerset beach following boy's death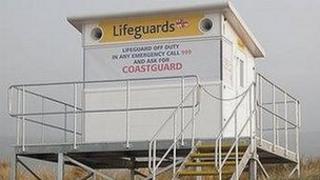 Lifeguards are being introduced on a Somerset beach following the death of a four-year-old boy.
RNLI lifeguards, under contract to Sedgemoor District Council, are to be on duty at Berrow Beach as well as Burnham-on-Sea through July and August.
It is part of new measures brought in following the death of Dylan Cecil, who fell from Burnham jetty last year.
Adrian Gardiner, from the council, said: "We carried out a review and we've got lifeguards on both beaches."
Dylan Cecil was on holiday with his family in Somerset when he was swept off the jetty at Burnham-on-Sea.
Following the accident, signs warning people not go to the end of the jetty were put up along with new warning stripes and an audible warning system for lifeguards to speak to the public.
"In terms of reviewing the jetty in particular where the incident happened there was no criticism of our existing arrangements and signage," said Mr Cecil.
"But what we did was try to think how can we do more to bring the hazard to the awareness of users and the general public."
Steve Instance, from the RNLI, said the organisation was "pleased to be expanding the service".
"Due to the popularity of these beaches it was clear from our risk assessment that a lifeguard service was vital to both sites," he said.
"We hope the charity's lifeguards will complement the existing RNLI lifeboat assets at Burnham-on-Sea, and other local emergency services."